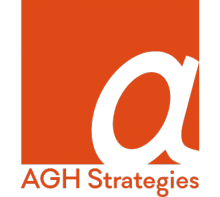 Relationships are built upon shared experiences. AGH Strategies helps nonprofits connect with supporters and track those connections. Using CiviCRM, organizations build and strengthen relationships with their constituents. We serve as partners through the whole process—design, implementation, training, and custom development—and provide spot support whenever needed.

Our staff know the nonprofit sector from the inside—fundraising, programs, and advocacy—and know how CiviCRM can be implemented and extended to meet the needs of your organization and mission. Based in Washington, DC, AGH Strategies serves clients in the metro area, Mid-Atlantic and South, and across the country.
Why we're sponsoring :
We're active in organizing the Washington, DC, CiviCRM community, and as the organizers of the CiviCRM User Summit, we know the value of face-to-face gatherings of users, developers, and others with an interest in CiviCRM. We're proud to be a sponsor of CiviCon 2015.