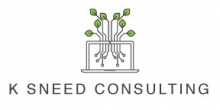 EMPOWERING NONPROFITS WITH POWERFUL DATBASES
KSNEED CONSULTING provides both database development and database management guidance regarding data collection processes, systems, training, and usage. She specializes in WordPress as a Content Management System (CMS) & configuring CiviCRM as the Constituent Resource Manager (CRM).
Kate Sneed has worked in the non-profit sector for over eight years. She began her career managing and evaluating job readiness programs for middle and high school students.  Kate is passionate about helping organizations collect data and use it effectively. Kate started KSNEED CONSULTING to provide non-profits and small businesses low budget services to help collect, manage and utilize their data. 
Why we're sponsoring :
KSNEED Consulting is proud to be a supporter of CiviCON DENVER!  We understand the importance of data for small businesses and nonprofits and love the service CiviCRM offers. Additionally, we value the community built around CiviCRM and the power behind this community. By sponsoring CiviCON, KSNEED Consulting confirms our commitment To CiviCRM and participation within the community to make CiviCRM the best CRM available.